Rapidly and slowly progressing MPS VI
Rapidly progressing MPS VI
Some people with MPS VI show signs early and clearly. Babies with this rapidly progressing MPS VI may not grow well. Other symptoms or medical issues may quickly emerge, including:
Unusual facial features
A tongue too large for the mouth
Vision problems
Breathing problems
Disease of the heart valves
Stiff joints
With these obvious symptoms, patients with rapidly progressing MPS VI are often diagnosed early.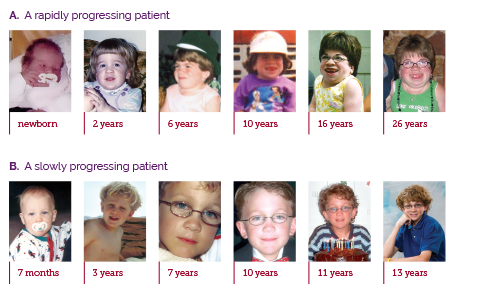 Symptoms may be recognized early in life for rapidly progressing MPS VI or later in adolescence for slowly progressing MPS VI. All patients with MPS VI eventually experience significant disability and may experience a shortened life span.
Slowly progressing MPS VI
Other people with MPS VI may have symptoms that are slower to develop. At first, some of their symptoms, like constant ear infections, may just seem like common childhood problems. On the other hand, a problem that is unusual in children, like stiff joints, may be seen as something that affects only the bones. For these "slowly progressing" patients, it can take the doctor a while to see that different symptoms, affecting many parts of the body, are all really due to MPS VI.
Whether rapidly or slowly progressing, MPS VI requires treatment
There is no hard line between rapidly and slowly progressing MPS VI. There are degrees in between. Symptoms can be very different from patient to patient. Even though the symptoms are not initially clear in people with slowly progressing MPS VI, GAG is still building up in their cells. It is still causing problems in their organs. Over time, people with slowly progressing MPS VI will notice more and more symptoms and the condition will progress. The symptoms of MPS VI need both symptom-based care and treatment with enzyme replacement therapy (ERT). All MPS VI patients are candidates for ERT treatment with NAGLAZYME® (galsulfase). NAGLAZYME provides the enzyme the body needs to break down and get rid of GAG.
Next Page